Colostrum LD Capsules vs. Powder: Pros & Cons
Sovereign Laboratories offers two varieties of Colostrum-LD®, capsules and powder. It's important to understand that whether capsules or powdered form, these are the exact same product and differ only in how they are packaged.
Which one you choose is a matter of personal preference. Here are some considerations:

Colostrum-LD® Capsules
Some people prefer to take their colostrum supplements in a capsule form for sheer convenience.
Easier to get your daily dose of colostrum when traveling.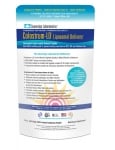 Colostrum-LD® Powder
Bulk powder Colostrum-LD® is less expensive than capsules, especially in the larger sizes.
Colostrum-LD® powder is more convenient if you use colostrum as more than a nutritional supplement. For example, treating cuts, scrapes and burns or for skin care or for your pets.
All Colostrum-LD® should be taken with water. Using the powder, which needs to be dissolved in water, satisfies this requirement, which some people prefer.
Keep in mind that you can always break apart a capsule and use the powder for non-nutritional purposes as mentioned above.
If you've never tried Colostrum-LD® we suggest using powder for maximum efficacy. We offer capsules as a matter of convenience, especially during travel.