Can You Lose Weight with Colostrum?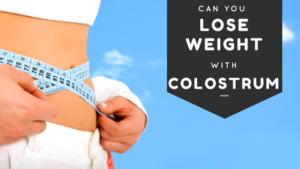 Obesity remains a major problem in the United States, one that appears unlikely to subside anytime soon.
A new study from JAMA Network Journals revealed that roughly 1.9 billion adults are overweight, while 600 million are obese. Meanwhile, weight loss continues to be a struggle for many adults as well.
With bovine colostrum, however, adults may be better equipped to overcome their weight struggles once and for all.
LIVESTRONG points out that colostrum has been shown to help adults increase lean body mass, and ultimately, improve their metabolism.
For example, colostrum may help an adult bolster his or her lean muscle mass as well as his or her basal metabolic rate (BMR). This can result in improved breathing and blood circulation and increased energy, making it easier for an adult to shed pounds.
As a food and not a pharmaceutical drug, colostrum is completely safe. It's also non-allergenic and has no side effects, ensuring that it could serve as a viable option to help adults achieve their weight loss goals quickly and efficiently.
Colostrum Delivers Support in Other Areas
Immune Function – Colostrum may help adults boost, balance, and maintain their immune function for an extended period of time.
Infection Protection – With colostrum, adults may be better equipped to remove harmful pathogens that otherwise could cause infection.
Muscle Strength – Colostrum could help adults improve their muscle strength and stamina.
Recovery From Exercise and Injury – In the past, colostrum has been shown to help adults speed up their recovery following bouts of exercise or injury.
It also is important to note that not all colostrum products are created equal. As such, you'll want to find the ideal colostrum offering to help you accomplish your weight loss goals.
With Colostrum-LD® from Sovereign Laboratories, you may be able to benefit from a safe, effective bovine colostrum product.
Unlike many traditional colostrum offerings, Colostrum-LD® uses a liposomal delivery (LD) system that allows the colostrum to bypass digestion. Thus, the healing components in colostrum will move directly through the bowel wall, circulate within the body, and remain bioavailable at the cellular level. This helps improve the effectiveness of Colostrum-LD®.
In addition, Colostrum-LD® serves as a great choice for those who are dealing with Leaky Gut Syndrome (intestinal permeability), a leading cause of chronic  and autoimmune conditions.
Common symptoms of Leaky Gut Syndrome include bloating, cramps, food sensitivities, allergies, chronic conditions, and pain. Colostrum-LD® is the only clinically proven colostrum on the market to help combat the symptoms of Leaky Gut Syndrome by healing and preventing intestinal permeability.
Ultimately, Colostrum-LD® can help adults increase their energy and stamina, build lean muscle mass, and activate the fat metabolism. These benefits, along with the ability to help minimize the symptoms of Leaky Gut Syndrome, make Colostrum-LD® a superior choice among colostrum offerings.
At Sovereign Laboratories, we recognize that only the best colostrum products will suffice as you try to lose weight. Therefore, we strive to deliver exceptional colostrum products that will help you achieve your weight loss goals.
Along with healthy nutrition and a regular exercise program, Colostrum-LD® can help make a world of difference in your mission to stay in shape. And with this colostrum product in your weight loss arsenal, you'll be better equipped to maximize your weight loss results.