What Is the Link Between Acetaminophen and Empathy?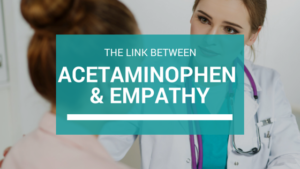 Acetaminophen is a pain reliever and fever reducer found in many everyday medicines and is marketed under the brand name Tylenol. It commonly helps users alleviate a number of problems, including:
Cold and Flu Symptoms
Fever
Headache
Muscle ache
Toothache
Mentrual Cramps
But did you know there may be a direct correlation between acetaminophen intake and empathy levels?
ScienceDaily reports researchers at The Ohio State University (OSU) recently conducted a study that showed acetaminophen may reduce an individual's empathy "for the physical and social aches that other people experience." 
"These findings suggest other people's pain doesn't seem as big of a deal to you when you've taken acetaminophen," study co-author Dominik Mischkowski said. "Acetaminophen can reduce empathy as well as serve as a painkiller."
Empathy, of course, remains a key component of a person's emotional intelligence and helps an individual better relate to the outside world.
Therefore, without empathy, a person may struggle at times to understand others, show sensitivity toward others' perspectives and respond to others' concerns and questions consistently.
"Empathy is important. If you are having an argument with your spouse and you just took acetaminophen … you might be less understanding of what you did to hurt your spouse's feelings," Baldwin Way, senior author of the OSU study, told ScienceDaily. 
On the other hand, acetaminophen remains prominent in many medications – just consider some of the following acetaminophen stats from the Consumer Healthcare Products Association (CHPA):
Acetaminophen currently ranks as the most common drug ingredient in the United States.
Acetaminophen is found in over 600 medications in the United States, including many over-the-counter (OTC) and prescription medicines.
Roughly 23 percent of U.S. adults — or 52 million consumers — use a medicine that contains acetaminophen at least once a week.
Acetaminophen safety serves as an important consideration as well, and the U.S. Food and Drug Administration (FDA) has implemented several campaigns as part of its efforts to teach Americans about this pain reliever.
The FDA's recent acetaminophen education efforts have included:
Limiting the strength of acetaminophen in prescription products to 325 mg per dose.
Requiring all OTC medicines that contain acetaminophen to display the word "acetaminophen" clearly on the front of the packaging, making it easier for consumers to identify medicines that include acetaminophen.
Creating strength (concentration) standards for single-ingredient liquid acetaminophen medicines that are designed for infants and children.
Acetaminophen continues to serve as a prominent ingredient in a wide assortment of medicines. However, for those who are searching for an acetaminophen alternative, colostrum supplements may provide viable options.
Colostrum LD®, for example, has been shown to help boost and balance immune function, reduce harmful pathogens and fight infection.
Plus, colostrum is a food – not a drug or medicine. It is non-toxic and safe for use at any time, in any quantity. As such, you can consume colostrum without having to worry about side effects or drug interactions.
Sovereign Laboratories has supplied colostrum that has been recommended by healthcare professionals for more than two decades. Please visit our website to learn more about our colostrum supplements. 
Sources:
http://www.drugs.com/acetaminophen.html
https://www.sciencedaily.com/releases/2016/05/160510084257.htm
http://www.skillsyouneed.com/ips/empathy.html