Sovereign Laboratories offers two varieties of Colostrum-LD®, capsules and powder. It's important to understand that whether you purchase Colostrum-LD capsules or Colostrum-LD powder, these are the exact same product. The minor differences are in how they are packaged and the consumer's personal preference. The major difference, however, is that the healing capability of bovine colostrum powder begins in the mouth, which is why we recommend Colostrum-LD powder over capsules.
The natural antibodies in bovine colostrum take immediate action to destroy oral bacteria (the cause of gingivitis and a contributing factor to heart disease) and help shorten the healing process of cold sores. A little further down the G.I. tract, colostrum powder offers added healing for people with GERD and other stomach ailments. Because colostrum capsules dissolve in the small intestine (further down in the G.I. system), the upper G.I. tract misses out on colostrum's benefits. Both Colostrum‐LD powder and Colostrum-LD capsules are effective at healing and preventing Leaky Gut Syndrome (intestinal permeability).
Additional considerations when selecting a colostrum product: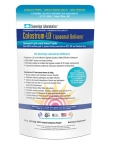 Colostrum-LD Powder
Colostrum-LD powder is less expensive than Colostrum-LD capsules, especially in the larger sizes and quantities.
Colostrum-LD powder is more convenient if you maximize colostrum's many uses. For example, treating cuts, scrapes and burns, for skin care, or for your pet's health, in addition to G.I. and immune health.
Colostrum-LD powder may be easier for children to take or for adults who experience difficulty swallowing pills.
Both colostrum powder and colostrum capsules should be taken with plain, room temperature water. Colostrum-LD powder should be dissolved in 6-8 ounces of water and taken on an empty stomach.

Colostrum-LD Capsules
Colostrum capsules may be advantageous when you're traveling and you require the convenience of capsules.
Colostrum-LD capsules can be broken apart and emptied into a glass of water or the powder can be applied topically for wound healing.
Bovine colostrum is an acquired taste, so Colostrum-LD capsules may be a more desirable option if taste is a factor.