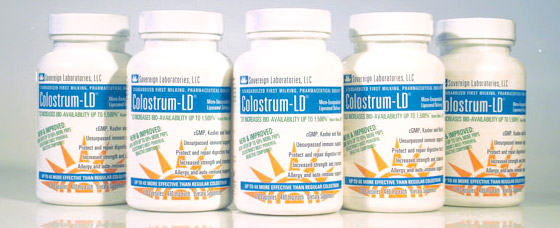 For people who cannot tolerate the flu vaccine due to egg allergies (please consult with your physician), colostrum is a proven alternative which helps prevent or shorten the length of viral and bacterial infections.
For those of us who can receive the vaccine -- which varies in effectiveness due to numerous factors, such as age and general health -- colostrum can augment the flu vaccine by naturally boosting your body's immune system to help ward off viral infections.
Colostrum: 3x More Effective Than Vaccination
In fact, colostrum has been shown in hospital trials to be "at least 3 times more effective than vaccination" in preventing the flu, even in aged patients with heart problems.
PRPs: Colostrum's Most Powerful Component
The components of colostrum provide many health benefits, but when it comes to viral infections such as the flu, it's all about the PRPs.
Among colostrum's numerous growth and immune factors, the most important and powerful are the PRPs (Proline-Rich Polypeptides).
Colostrum-LD® from Sovereign Laboratories, which has always had the most PRPs of any colostrum on the market, has recently been improved and now contains up to 50% more PRPs than ever before.
PRPs Fight Viruses
Hundreds of scientific studies have demonstrated PRPs ability to help combat viral pathogens, including influenza. See the doctor testimonials below for more information.
Is All Colostrum The Same?
Definitely not. Only Sovereign Laboratories exclusive Colostrum-LD® (liposomal delivery) increases bio-availability by up to 1500%. Without the liposomal delivery advantage, key components of the colostrum are destroyed by stomach acids before they can be absorbed by the body, thus reducing bio-availability and therefore decreasing effectiveness.
Additionally, clinical studies have shown Sovereign Laboratories colostrum to contain higher levels of key healing components than other USA and New Zealand colostrums.
Get Your Colostrum Now!
Need More? Doctor Testimonials
"Colostrum contains non-specific inhibitors (PRPs) that inhibit a wide range of respiratory illness, notably influenza viruses. Colostrum is specifically cited for its unique effectiveness against potentially deadly outbreaks of Asian flu viruses that emerge from animal/human mutations."

Dr. Shortridge, et al
Journal of Tropical Pediatrics
The only cGMP standardized available source of proven PRPs is in Colostrum-LD® powder and capsules and Viralox® PRP oral spray.
"Colostrum has a virus antibodies PRPs that acts against viral invaders. A wide range of antiviral factors were acknowledged to be present in colostrum."

Dr. E. L. Palmer
Journal of Medical Virology (from a study at the Center for Disease Control in Atlanta, Georgia
"The immunity provided by PRPs is long lived and can help all ages who are suffering from a variety of ailments or those who want to stay well. The unfolding events surrounding Severe Acute Respiratory Syndrome, (SARS) is yet another painful reminder that we live in a crowded world where continents are only a plane ride away. The SARS epidemic is only one of an ongoing series of new emerging diseases. Our best global and personal strategy is to do all in our power to ensure and support our unique abilities of disease resistance and immunity"

Richard Bennett, PhD **
"Viralox's PRPs is being heralded as the most exciting discovery in immunology to come along in decades. Taking PRPs is like downloading immune information directly from the cow's immune system to ours. It gives our immune army generals' classified information about the invading enemy. It's completely different from any mineral, vitamin or herb; it's immune intelligence. As a physician, it is easy to tell my colleagues about this product that is scientifically based and so effective. There are hundreds of scientific studies backing up the scores of personal experiences about PRPs. I believe PRPs are, without a doubt, the greatest discovery of the century in supporting and modulating the immune system. I believe a strengthened immune system will be the primary way to stay well in the future. This nutrient can affect the immune system like nothing else can. I sincerely believe everyone needs to consume this product."

Robert Robertson, M.D. ***
Here's what another world renowned physician has to say about PRPs (Viralox):
"There is no other product in a nutritional substance, or a drug, that has this kind of power and ability to affect our immune system. With the increase of killer viruses, mutated germs, super-resistant germs, and food contaminations, our only hope and defense, must lie within our own immune system."

Darryl See, MD ****
How Can Viralox® Change You And Your Child's Life?
"We have just finished a review of our first 12 months' Pediatric experience with Viralox's PRPs and the review confirms our initial feelings. 88 children who used PRP daily at the recommended doses for six or more months were compared to the same aged and same sexed children who did not use PRP, and their illness and antibiotic use were compared. We found in this retrospective study a 74% reduction in reported illness and an 84% reduction in antibiotic use. Using any measure, these are very significant results. No untoward reactions were reported. We have started to review the costs of the illness/antibiotic saved by the use of PRP. Initial results indicate over $25,000 saved in the user group in medical care, office visits, and drug costs. Again, these results are of major consequence and show the use of PRPs not only improves the quality of life for the child and his/her family it makes sense economically. How could Viralox change your child's life?"

David M. Markowitz, M.D., Pediatrician
Get Your Colostrum Now!
** Dr. Bennett is an Infectious Disease Microbiologist & Immunologist, who is enjoying retirement from a 21-year career with the University of California where he specialized in food and water quality and safety. He received his Doctorate in Comparative Pathology from the University of California, Davis. He has an extensive background in milk quality and disease control, water resource policy, food safety, public policy of natural resources, etc. He has also served as an advisor for the FDA and USDA.
*** Dr. Robertson is a former Emergency Room Physician. He received his medical degree from the University of Louisville School of Medicine in 1974. He served as the Director of Emergency Services at Western Baptist Hospital in Paducah, KY.
**** Dr. See received his degree from the University of California, Irvine. Academic appointments include: Assistant/Associate Clinical Professor of Medicine: Investigator, California Collaborative Treatment Group: and Infectious Disease Consultant, Liver Transplantation Service. He has received contracts, grants, and research awards from Pfizer Pharmaceuticals, Upjohn Pharmaceuticals, Roche Molecular Systems, Harvard Biotechnology, National Institutes of Health, Department of Defense, and more.