Share the health by referring Family & Friends! Also earn points that can be redeemed for free products. Sign up is free... it's a no brainer.
1) Refer Friends & Family
Referrals earn you 100 points ($10 value) and $10 discount for your friend when your friend makes their first purchase. Unlimited referrals.
2) Shop for Points
Earn 1 point for every dollar spent*. Points are the equivalent of a 10% discount. Redeem points for discount coupons.
* Excluding sales tax and/or shipping charges, if any. Only one coupon code may be redeemed per purchase.
Let's Get Started!
How It All Works
Earn redeemable points on every purchase or by referring friends and family. Let points accumulate as little or as much as you like before redeeming them for discount coupons to be used with your next purchase (minimum of 500 points to earn a discount coupon).
How To Refer Friends & Family
1) Click the Rewards button in the lower left of every page. It looks like this...

2) If you are not already logged in you will need to do so, or create an account if you don't already have one. If you are already logged in you will skip this step.

3) Click the EARN POINTS tab, and then FAMILY & FRIENDS REFERRALS.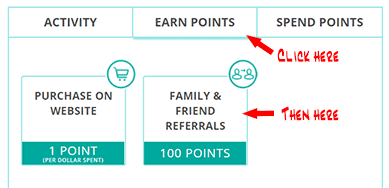 4) Now choose whether to share your referral on Facebook, Twitter or provide a friends email address. And yes, you can do all three. For this example we'll choose the yellow email icon.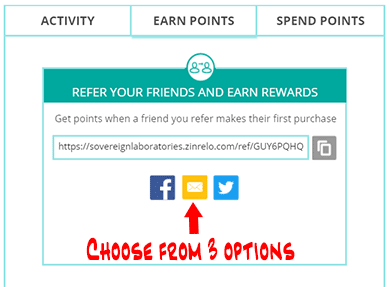 5) Now just enter your friends email address and click "Share your referral link"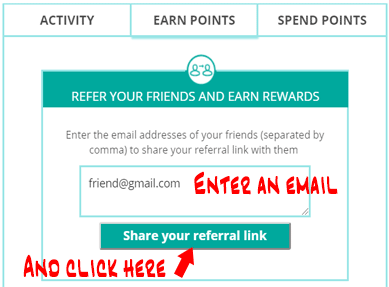 6) Or you can share the provided link with all your Facebook friends or on your Twitter feed. Just select the appropriate icon in Step 4. We will keep track of everything and if a friend clicks your link and makes a purchase from sovereignlaboratories.com you will be awarded 100 points and your friend will save $10.
That's it, you're done!

Stuff You Need To Know
Points received for purchasing products will appear in your Rewards automatically (once payment has cleared the banks).
When redeeming coupons, make sure your purchase price equals or exceeds the coupon value. Unused coupon credits are lost and not replaceable if your coupon value exceeds the purchase price.
Please remember, you need to have an account with us and be logged in for points to be registered. We cannot award points after the fact if you are not logged in.
To redeem points login to your account and click the Rewards Program button located in the lower left of your screen before checking out. There you can redeem points and will receive a coupon code that must be inserted into the specified area during checkout.
Only one coupon code may be redeemed per purchase.