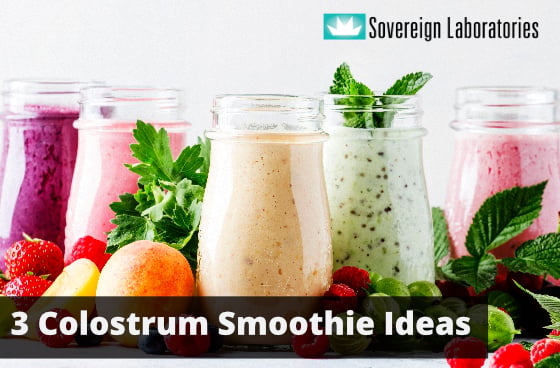 3 Colostrum Smoothie Recipes That Taste Great
Colostrum Smoothie Recipes
Bovine colostrum is often referred to as a superfood. Produced by cows after giving birth, this milky fluid is packed with nutrients, vitamins, and antibodies to support the immune system of calves in their first few days of life. Bovine colostrum has many health benefits for humans.
• Supports tight junction integrity
• Supports overall intestinal health
• Encourages a healthy immune response
• Promotes healthy aging
• Utilizes liposomal delivery for optimal absorption
Liposomal bovine colostrum supports a balanced healthy immune system and the healthy integrity of the stomach and intestinal lining. Known as the "first food of life," Colostrum-LD® is ethically sourced from the first milking of healthy Grade A dairy cows that are not supplemented with rBST and are antibiotic-free. The colostrum is collected, then gently pasteurized and dried into a powder.
Each recipe below makes one serving. Ladies and gentlemen … start your blenders!
The Elvis—Peanut Butter and Banana Colostrum Smoothie Recipe
Peanut butter and bananas are not just for Elvis! Power through your day with this smoothie packed with the protein found in peanut butter and colostrum and the potassium in bananas.
Ingredients:
1 ½ frozen sliced bananas
½ cup natural peanut butter
1 cup milk (or substitute almond milk or oat milk)
1 serving colostrum powder
Place the bananas, natural peanut butter, milk of choice, and colostrum powder in a high-speed blender.
Blend until the mixture is smooth, adding more milk as needed.
Serve right away for best consistency and flavor.
This colostrum-powered smoothie is perfect for a midday boost or even a quick meal replacement.
The Green Monster Colostrum Smoothie Recipe
It's not easy being green, but it's easy to get your daily greens with this smoothie recipe. These ingredients pack a punch of natural antioxidants, protein, and a mix of flavors that will give your tastebuds and your energy a boost. A bit of cayenne pepper gives this recipe an extra kick.
Ingredients:
1 cup fresh kale
½ cup frozen pineapple
1 cup milk (or substitute almond milk or oat milk)
1 serving colostrum powder
½ teaspoon cayenne pepper (optional)
In a blender, place the kale, frozen pineapple chunks, milk, colostrum powder, and cayenne pepper (if using).
Blend until the mixture is smooth. At this point, your smoothie should have the consistency of a shake. Blend in more milk if needed.
Serve and drink right away to get the maximum benefit of this green monster.
Berry Blast Colostrum Smoothie Recipe
If you're not into really sweet drinks, then this smoothie recipe is for you! The sweetness of the strawberries perfectly balances the tartness of the blueberries and raspberries. Add in milk, and you've got a creamy treat with all the antioxidants your body needs.
Ingredients:
½ cup frozen blueberries
½ cup frozen raspberries
1 cup frozen strawberries
1 cup milk (almond milk works well)
1 serving colostrum powder
Bust out that blender and add your frozen blueberries, raspberries, strawberries, your choice of milk, and the colostrum powder.
Blend until the mixture is smooth, adding more milk if needed.
Serve and enjoy immediately.
These colostrum smoothie recipes are rich, packed with protein and perfect for a quick pick-me-up anytime. They are also delicious and healthy. Serve and enjoy on the go or even on the sofa!