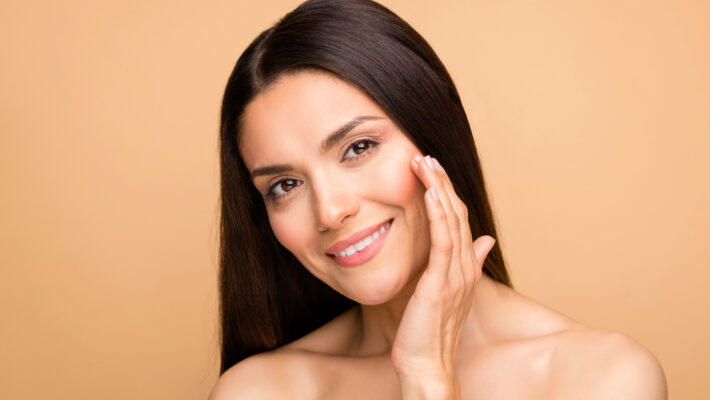 Anti-Aging Skin Care Benefits of Colostrum
Many costly and time-intensive skin care remedies that claim to slow down the signs of aging are available to consumers. Now, bovine colostrum supplementation may help individuals reduce the need for these skin care remedies or compliment the ones they're already using. Bovine colostrum contains hyaluronic acid, vitamin K2, vitamin D, vitamin C, silica, probiotics, and most importantly, skin growth hormones – all of which have been shown to potentially provide skin care benefits.
Effects of Aging on the Skin
Sun, harsh weather, and bad habits may actually make the skin appear older than an individual's biological age.
There are many personal factors that may impact how an individual's skin ages, including lifestyle, diet, and assorted personal habits.
Over time, the skin can become rougher, slack, more transparent, more fragile, and more easily bruised.
In addition, an individual may lose fat below the skin in the cheeks, temples, chin, nose, and eyes as he or she grows older, resulting in a "skeletal" appearance.
Bone loss around the mouth and chin and cartilage loss in the nose also may occur as a person ages.
What You Need to Know About Over-the-Counter Skin Care Products
Many over-the-counter topical products are available to help people reduce signs of aging skin.
Tretinoin is a popular prescription topical cream in the vitamin A family; it is approved by the U.S. Food and Drug Administration (FDA) for treatment of facial wrinkles.
Moreover, retinol is a common ingredient in over-the-counter anti-aging products; it is in the vitamin A family but lacks the strength of tretinoin.
Anti-wrinkle creams also are exceedingly popular and may prove to be a cost-effective alternative to cosmetic surgery.
Are Over-the-Counter Skin Care Products Effective?
Some skin care products contain ingredients that may dry the skin out, such as paraben, phthalates, petrochemicals, sodium lauryl/laureth sulfate, and diazolidinyl urea.
Natural, organic skin care products are available, but these products may put a major dent in an individual's budget.
Many over-the-counter skin care products fail to deliver proven results and may not provide an effective long-term solution for various skin problems.
What You Need to Know About Cosmetic Skin Care Procedures
Americans spent more than $15 billion on surgical and non-surgical cosmetic procedures in 2016, according to the American Society for Aesthetic Plastic Surgeons(ASAPS).
Popular cosmetic procedures include microdermabrasion, facelifts, and eye lifts.
Most cosmetic procedures are performed by plastic surgeons who are board certified by the American Board of Plastic Surgery. Minor or non-invasive procedures may be performed by a board-certified dermatologist.
Are Cosmetic Skin Care Procedures Effective?
Cosmetic surgery may help an individual minimize the signs of aging, but it is not without risk, as is any type of surgery.
The costs of cosmetic surgery may vary, and in many cases, a single procedure may cost thousands of dollars.
Like many skin care products, cosmetic skin care procedures offer no guarantees.
Bovine Colostrum for Skin Care: What You Need to Know
Colostrum is the only known natural source of the enzyme, telomerase, which may help to slow down the aging of DNA.
Telomerase may keep DNA strands from becoming shorter and enables identical, undamaged skin cells to duplicate themselves again and again.
Colostrum also includes epithelial/epidermal growth factor (EGF) and insulin-like growth factor (IGF-1), which are known to assist in the repair and regeneration of cells.
EGF and IGF-1 play essential roles in wound healing, which makes colostrum an important potential adjunct to the skin's repair following a surgical cosmetic procedure.
Let's not forget about the lactoferrin in colostrum, either. Lactoferrin helps manage the immune response in the skin cells, which means supplementing with lactoferrin may potentially help a person increase his or her skin health.
All this without exposure to additional chemicals, preservatives or additives is available in this safe superfood.
Maintaining youthful-looking skin is a priority for many men and women, yet skin care products and cosmetic procedures may not deliver the desired or anticipated results. Bovine colostrum supplementation may help a person take an inside-out approach to skin care. Colostrum is a natural supplement and when taken internally, has the potential to help patients address symptoms of common skin problems.
Make a Colostrum Facial Mask
Mix 1-2 tablespoons of powdered bovine colostrum with enough water or coconut oil to make a thick paste. Apply to face and/or décolleté and allow paste to dry. Rise with cool water and pat dry. An alternative version is to mix 1 teaspoon powdered bovine colostrum with enough water, olive oil, or coconut oil to easily apply around the eyes at bedtime. Wash face in the morning.
This article was brought to you by
Sovereign Laboratories
, a world leader in the development of
liposomal delivery
to maximize the bioavailability of our
dietary supplements
.