Bovine Colostrum Advocates Share Their Expertise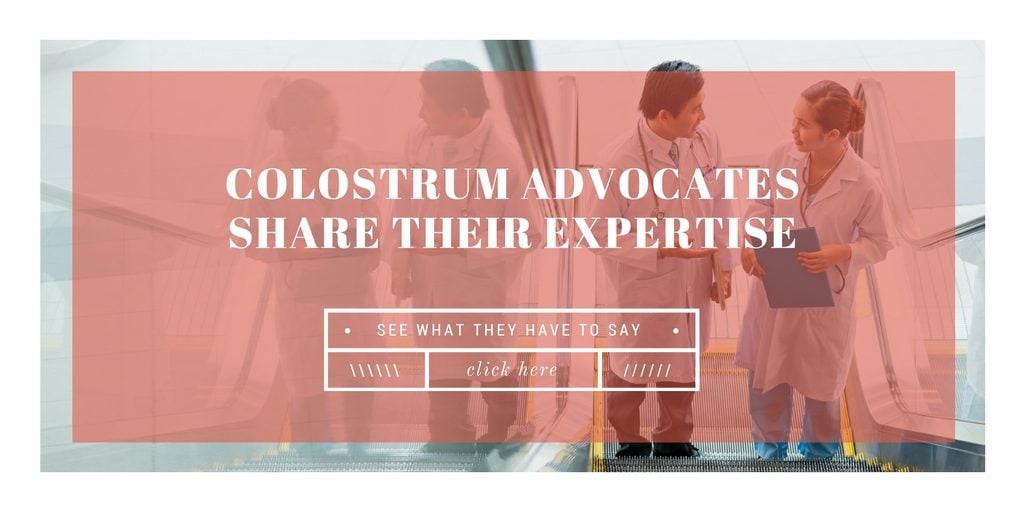 Bovine colostrum is an exceptional nutritional supplement because it has been shown to help users boost and maintain immune function, prevent infection, heal a leaky gut, increase muscle strength and stamina, accelerate the recovery process after exercise or injury, and attenuate the deleterious effects of aging.
Many physicians and health professional have joined the bovine colostrum movement because they've seen the recent explosion in chronic disease and deadly gut-based infections, and they realize that colostrum has a significant role to play. Whether through research, patient results, or personal experience, more and more professionals are having that "ah ha" moment when it comes to the "healing miracle" of bovine colostrum. Here's three of the top colostrum advocates:
Andrew M. Keech, Ph.D. 
Andrew M. Keech, Ph.D., has performed numerous clinical studies that highlight the benefits of colostrum. He also wrote Peptide Immunotherapy, Colostrum: A Physician's Reference Guide, a book that explores how he and Douglas Wyatt discovered the benefits of colostrum and used this supplement to help Wyatt's ailing wife.
In his book, Keech describes how he and Wyatt were among the "pioneers of colostrum." As such, Keech and Wyatt together helped transformed colostrum from something that was commonly considered a "waste product" by many farmers into a life-changing supplement that aids adults and children around the world.
Keech also discovered how the immune factors in bovine colostrum can be used as a therapy to fight viral and bacterial infections. His focus on gut-based pathogens that cause extreme diarrhea, dehydration and death gives hope to patients around the globe where these types of infections are common. Today, he serves as one of the leading colostrum experts and follows a mission to promote the benefits of colostrum in the hopes of saving lives.
Dr. Daniel G. Clark, M.D. 
Dr. Daniel G. Clark, M.D., co-wrote a book with Kaye Wyatt, wife of Douglas Wyatt, titled Colostrum, The Ultimate Anti-Aging, Weight Loss and Immune Supplement.
This book examines the benefits of colostrum and how colostrum helped Kaye Wyatt overcome a "long history of illness." It highlights how Wyatt leveraged colostrum to help combat asthma, allergies, and numerous life-threatening infections due to radiation of her thymus gland in early childhood.
To date, Clark has written several articles about colostrum and its long-lasting benefits. He points out the importance of maternal colostrum stimulating a newborn's immune system via the transfer of immunoglobulins. The immunoglobulins and other immune factors in bovine colostrum can assist users in eliminating bacteria and viruses that may otherwise cause illness.
Dr. Robert J. Rowen 
Dr. Robert J. Rowen was among the first physicians to discuss how colostrum can help prevent Leaky Gut Syndrome (LGS), a primary cause of chronic and autoimmune conditions.
LGS has been associated with allergies, arthritis, chronic fatigue syndrome, irritable bowel disease, Crohn's disease, cancer, diabetes, heart disease, and other life-threatening conditions. In two recent articles for the Center for Nutritional Research, Dr. Rowen made the case for bovine colostrum as an alternative for synthetic human growth hormone and described a multitude of health benefits, including colostrum's use in alleviating the painful symptoms of arthritis. 
Why Should You Consider Colostrum? 
As more and more practitioners discover the healing benefits of bovine colostrum, they will start making this supplement an integral part of their practice and therapy recommendations. A majority of patient visits are precipitated by a chronic illness, a G.I. problem, or chronic pain. And if your doctor hasn't heard about colostrum, YOU may be the one to educate him or her.
When it comes to selecting a superior colostrum supplement, only Colostrum-LD™ from Sovereign Laboratories will do. Unlike other brands on the market today, Colostrum-LD™ is up to four times more effective than alternatives thanks in part to its proprietary liposomal delivery (LD) system. LD allows the healing components in colostrum to bypass digestion and ultimately reach the organs and cells where they're needed. Furthermore, LD increases bioavailability of these component by approximately 1,500 percent.
Lastly, Colostrum-LD™ is the only natural substance or pharmacological treatment, that offers consistent and true support for people with LGS. With more than two decades of research, Colostrum-LD™ is the only clinically proven substance for healing and preventing LGS.
Ready to take advantage of Colostrum-LD™? To learn more about our colostrum supplement, how to use it, and what lifestyle changes are needed, please explore our website.