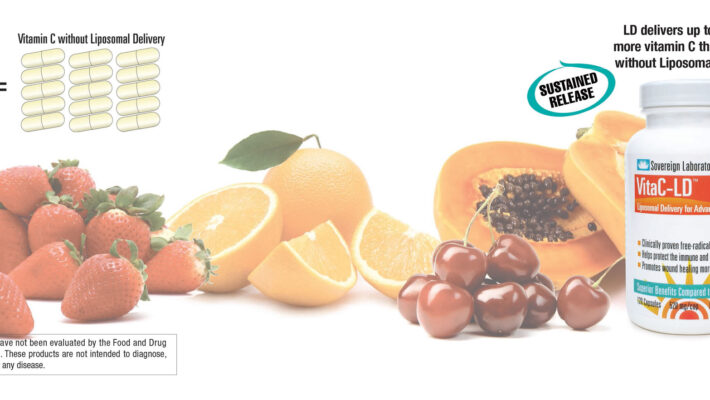 3 Things You Need to Know About Vital C-LD®
Think you're getting enough vitamin C? Think again. Your diet and supplemental vitamin C may seem like the amount your body needs, but most of this vital nutrient isn't absorbed. As a result, you're probably missing out on an essential vitamin that has been shown to help safeguard the body against immune system deficiencies, cardiovascular disease, and even skin wrinkles.
Vitamin C a powerful dietary nutrient, and thanks to Vital C-LD from Sovereign Laboratories, you can enjoy a vitamin C supplement that delivers superior benefits. So, what does Vital C-LD have to offer? Here are three things you should know about this dietary supplement.
1. Vital C-LD delivers is 233% more absorbable than regular vitamin C.
Vitamin C is essential to our health and well-being, yet humans are the only species on the planet whose body doesn't manufacture this essential nutrient. Also, once ingested, vitamin C can be expended on its way through the stomach; because it is an antioxidant, much of it gets used up before it reaches the small intestine where it gets absorbed into the bloodstream. The result is that the effectiveness of many over-the-counter vitamin C products are severely limited.
Vital C-LD uses liposomal delivery (LD) and delayed-release capsules which ensure the vitamin C will remain intact as it travels through the stomach and into the bloodstream. As a result, Vital C-LD (which contains PureWay-C®) is absorbed at a rate of 50% compared to 18.5% with Ester C® and only 9% with other non-LD vitamin C supplements or vitamin C containing foods.
2. Vital C-LD® features citrus bioflavonoids that assist in various ways.
Vital C-LD contains citrus bioflavonoids that can help protect the body against oxidative stress. As such, the supplement has been shown to help deliver more rapid and greater benefits in many areas, including:
Immune System Health
Nervous System Health
Skin Health
Vital C-LD does this through the basic action of vitamin C — providing support to provide a healthy inflammatory response, stimulating healthy neurons in the body, and improving wound healing. This makes vitamin C a vital supplement in supporting good health.
3. Vital C-LD® is manufactured with you in mind.
Vital C-LD stands out from other vitamin C supplements not only because of its health benefits, but also because of these key features:
Advanced Protection – Safeguards the immune and nervous systems more rapidly than most other vitamin C products.
High Potency – Allows users to take higher doses of vitamin C without the risk of stomach upset.
GMO and Allergen-Free – Offers a 100 percent natural vitamin C supplement that is safe and stomach-friendly.
Vital C-LD is an innovative and effective form of vitamin C. It helps prolong the biological activity and beneficial biochemical functions that are vitamin C-dependent, making it an exceedingly valuable supplement. Vital C-LD is available in 520-milligram capsules. The suggested serving is 1 capsule, twice per day for maximum efficacy. Each 120-count bottle is a 2-month supply. To learn more about Vital C-LD, please explore our website.
These statements have not been evaluated by the Food and Drug Administration. These products are not intended to diagnose, treat, cure, or prevent any disease.
This article was brought to you by
Sovereign Laboratories
, a world leader in the development of
liposomal delivery
to maximize the bioavailability of our
dietary supplements
.